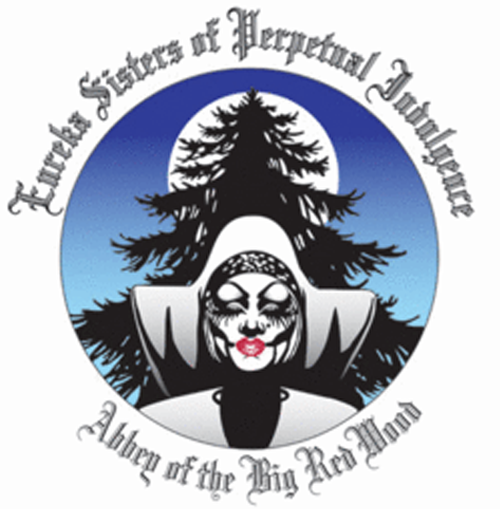 In the beginning the local queer townsfolk were hidden in the great green mist that hung over Humboldt County. Then, as tradition each year, on the great day of "Pride", the Great Spirit cleared the skies.  Out of the mist appeared the great messengers of joy, the Russian River Sisters of Perpetual Indulgence.  These nuns from afar came forth to bless the 2003 festival of Pride.
And the townsfolk were touched by the "calling" as well as the Sisters.  They beseeched the Russian River Order to take them under their veils and to teach the ways of community outreach and activism without shame.
So it was, that Sister Nova Nilla became their mother and gave birth in the city of Eureka to the 11 founding members who came to be known as the Eureka Sisters, Inc. Abbey of the Big Red Wood.
Since then, the Eureka Sisters have gone forth to spread joy to those who have none and expiate stigmatic guilt of all through community outreach, education, and a little naughtiness.
2006
The Abbey made their first appearance at the Humboldt State University's "Qross Qultural Queer Film Festival" on March 21. Our local Pride is in September and we have had Bat-N-Rouge Drag Saftball for three yoears, and have worked on many Bingos.
Sister Amanda Hugginkiss, Sister Bo D. Fatwa, Sister Desi Groan, Sister Lupita Phaheta Buffet, Sister Nida Salivation, Sister Fellata Immacualta, Sister Sinful Sin, Sister B'Ouncee, Sister Saturnalia, Sister Juana Little, Sister Domodora DeeFaerie Boys, Father Oh Mary! and Sister Fawn D'Amen founded our house.
What is your full name and when did you become fully professed?
My name is Sister Nova China and I took my Vows on Samhain Bingo, 2011
Who is, or who do you consider your Big Sister or Mother to be within the SPI organization?  
In our house we have 3 big sisters and a mother. Sister Fawn D'Amen is my Biggest Sister (judging solely by capacity: her heart) and Father Oh Mary! Is also my Big Sister (Judging with regards to Stature) and Sister Saturnalia is My Mother, she was also my big Sister as a Postulant (I got my name from her exclamation upon my birth!).
How has the relationship with your Big Sister/Mother influenced your Sister journey?
Sister Saturnalia has the most enchanting smile. It was her noble kindness which inspired my service. She is soft spoken and has other's needs held before her own. It is her devotion to relationship; friends, family, and stranger that serves as my landmark for who I want to be. It is her sincere authenticity that drives how I want to enact relationship. So, it was role-modeling and attentive support that were most valuable to me. Often my Big Sisters are there in my life, offering advice, a caring shoulder, or becoming a dominatrix to put me in my place. Sister Fawn and Father Oh Mary! have helped me to be able to look beyond circumstance and negotiate practical milestones.
How often does the Eureka house have general membership meetings, and how long do they usually last?
Eureka has a monthly meeting on the 3rd Sunday of every month at 9 am and they run between 2 and a half to 4 hours.
What do you find most challenging when attending a GM meeting? (explain)
Challenging is a euphemism right?  I think the most challenging thing about our General Membership meetings is getting and keeping everyone's attention and involvement. Our GMs have a lot of content.  We have become careful to stay on topic.  I am thankful for the wit and jabs that my Sisters punctuate the meetings with, since it offers moments of Gestalt clarity about our mission, Fun…we have to have it in the GM too.
Since the day you joined SPI, what are the biggest changes that you've noticed or witnessed in both the organization and yourself?
When I joined SPI, it seemed that the group was fund raising and business oriented with fun and pseudo-religious themes fulfilling some of the interpersonal needs of the group. Since that time, the house went through a couple of unexpected bumps and we have had to learn about ourselves as individuals and to respect and trust one another. We learned that the progress period toward membership is not just a way to challenge growth, but a time to foster this trust and supportive relationships. We have recently completely overhauled the processes of matriculation toward empowering the new Nun, and re-centering the onus of responsibility for the relationships on to the Big Sisters. Relationship has become the driving force of our process.
Since I have been involved, I have learned who I am. This organization provided me a place to learn about myself as a leader. In that regard, for the purpose of forging new relationships with the community, I took on a commission with the Humboldt County Human Rights Commission. It was the Sisters who are responsible for my meeting my Partner of 4 years. And it is the Sisters who have been a driving force in my academic career. I am earning a Bachelor's in Religious Studies and a Minor in Social Advocacy and Graduate in May. A great amount of the core work for my degree had to do with papers on the topic of the Sisters. I learned how to speak publicly and to take on advocacy work without shame.
If you could change anything about your journey to full profession, what would that be and why? 
I attended Conclave at Russian River as an Aspirant, I was White-veiled at Dolores Park on the 30th Anniversary and I took my Vows on Samhain two years ago… I have been included in much of the shaping policies since I was a Postulant when I reworked the bylaws with then Vice President Sister Fawn D'Amen. It took me four years for my journey to take place. So when I think what could have been better, I would have bought shoes that fit. I am serious about that.
As the vice president of the Eureka house, what are your expectations or goals of the house for 2013?
We are completely revising our infrastructure, process and finally codifying procedure. As I stated earlier, we are refocusing on our interpersonal relationships, and are changing our focus for Pride week in September. The Mistress of Novices is focusing on team building by fostering relationships between Postulants and Novices with Sponsoring Big Sisters who assist with the process of progression, which includes an intimate knowledge of the Novice Project being accomplished by their new Sisters.
What is the best part of being the Mistress of Novices for your house, and what would you say is your least favorite part?
The best part of being the Mistress of Novices is to be taking such a central role in helping others toward obtaining their goal of being a Nun. Supporting them in their work, to help them face difficulties and work things out between all the members is really a blessing to me. I just began the position in February and so I am learning the ropes. So far, the time requirement is a bit of a surprise, but not unmanageable, so I guess the hardest part is trying to figure out how to guide people through their own personal journeys. This is amazing work and worth every minute.
What are you currently most excited about? 
I am currently most excited about resurgence in interest to foster friendships within the order. A refocusing on spiritual needs and on caring. Fund raising is important and community is important, but this intimate interpersonal work between us is what keeps this going.
If you were asked to give advice to a mission house that was going through the process of becoming a fully professed house, what would that advice be?
Before you put on the paint, take off your masks. This work is real, the people we help need help; we help because we needed help. Be real. I cannot stress enough how our personal comfort zones get in the way of this work. If I cannot hug a homeless person, I need to hug a homeless person. If I cannot accept someone because they are lying about who they are, I need to assess why they would hide; what am I fighting against? Stigmatic Guilt. Challenge yourself to love the person inside.
What does being an SPI member mean to you, personally? 
When I was growing up I wanted to be a minister. I came out and lost my direction, lost that dream (I was a Fundamentalist Christian). I spent years trying to find work that would fulfill that vocation (my theology is such that a vocation is a calling from God/dess). As I live as a Sister, I find I am actually doing all of the work I would have done as a Minister. I am also becoming that minister, the degree, the work, the people, the help. This is what I was sent out in the world to do. We often explain that as Sisters we are a non-religious order. However, this is the most Spiritually Aware group of people I have ever encountered, where people and service to the community is above deity.
In one word, give your description of the SPI organization.
Sangha.